TV Stands & Wall Mounts Melbourne


Increase the Functionality of Your Workplace with Better Screen Placement: Try a TV Stand or Mount
Increasingly, screens are becoming a central part of many offices. Whether you are displaying important information via wall mounted monitors or offering medical or dental patients the opportunity to watch TV or movies during procedures, you need to make sure you're mounting your screens securely and in the right spots. At Screen Mounts Australia, we can help. By offering innovative and versatile solutions for TV stands in Melbourne, we can assist you in making your office more functional, more ergonomic, and more modern in every way.

Our TV Wall Mounts: Secure, Versatile and Ergonomic
Putting monitors and TV screens in the exact right spots throughout your office is often easier said than done. Where you mount a monitor can impact its ergonomic usability, which in turn can affect just how much that screen gets used by employees, customers, and patients alike.
How you mount a TV screen can also affect the stability and safety of the installation. Simply put, some mounting systems are more reliable than others. To protect your investment and keep your office safe, you need a mount that you can count on to be 100 percent stable—whether it's affixed to a wall or mounted on the ceiling.
At Screen Mounts Australia, we provide TV wall mounts in Melbourne that deliver smart placement, ergonomics and full stability. If you want to mount a TV on the ceiling so that your patients can watch movies while you are cleaning their teeth, we can provide a solution. If you want to mount multiple screens side by side, we can provide a solution. If you merely need a wall mounting solution for a large monitor screen in your corporate boardroom, we can provide a solution.
Across the board, we pride ourselves on the versatility of our solutions. In addition to being able to mount a screen on virtually any surface (or at any angle), we also have mounting solutions suited to various monitor sizes and weights. In addition to our broad selection of TV stands in Melbourne, we can also customise our products in some cases to meet specific requirements. Feel free to reach out to us directly if you need to enquire about a custom product.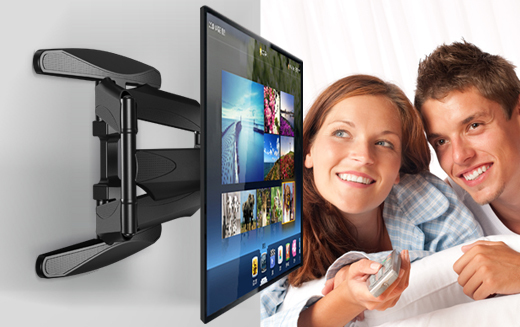 Choose a Superior TV Wall Mount in Melbourne
When it comes to selecting TV wall mounts for your Melbourne office, you need something that is not only going to hold your screen aloft without breaking or failing but also something that is going to encourage the use of that screen. It's a waste of money to buy and install a mounted monitor or television if no one will end up using it because of awkward positioning. At Screen Mounts Australia, we work hard to ensure that our mounts are not only durable and reliable but also in the right place. We want to help you improve the function and ergonomics of your office, and we think that screens and where they are installed can have a significant impact on that equation.
To learn more about our services, or to start searching for the right TV wall mount in Melbourne, contact Wall Mounts Australia today.