Avoiding Space Invaders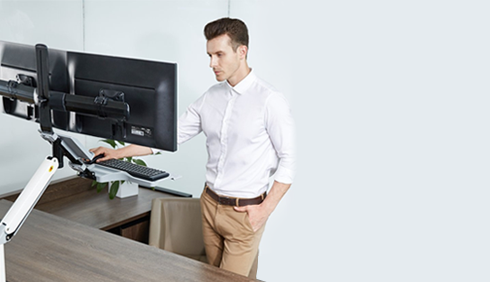 Whether you have just upgraded your tv or are looking to maximize the space in your home in general, a tv is known to be an oversize awkward item to store and finding the right spot to maximize space can often be tricky. Between the tv itself and opting for a bulky tv unit, you're likely to find the space in your home invaded and just think about what else you could use the extra space for, or perhaps you could improve the feel of the size of the room. At Screen Mounts Australia we are committed to supplying top quality mobile tv stands that won't break the bank. Our static screen mobile tv stands are an ideal solution when you wish to preserve the space in an area but also want the same appeal of wall mounting. At Screen Mounts we have made it our mission to only stock the best possible mobile tv stands. Our extensive range of TV carts and mobile tv stands offer great solutions to individuals or businesses or even schools and other educational institutions that either require the need to maximize space at different points in time or the maneuverability of their TV and TV accessories. Boasting full mobility to move the TV stand cart or mobile TV stand as required between rooms allows for flexibility and sharing your valuable technology at different times without the need to tie up capital by having to purchase multiple TV's and accessories. For a more permanent solution the North Bayou Range of single and dual screen monitor we stock offer premium quality and versatility. With quality gas pressure filled struts for ease of adjustment once installed moving a screen around could never be easier. If it's a computer monitor mount solution you're after then you're also in the right place as we stock a diverse range of mount options from wall and desk mounts with weight capabilities from as little as two kilogram through to the colossal twenty-three kilogram weight limits. Our tv stand Sydney based business offers all our range of tv stands Australia white.
The Screen Mounts Australia Difference
By choosing to purchase your next tv stand through Screen Mounts Australia you receive full comfort knowing that we are an Australian-based business and proceeds on our services remain in Australia. When you call up or e-mail us, you can enjoy the benefits of knowing a dedicated team member is assisting you with your enquiry who has thorough product knowledge and can assist you in ensuring you're selecting the right tv stand for the right use in your home or business. When looking to place your tv on a mobile tv stand or wall mount your TV we believe sourcing and using a wall mount that has been carefully crafted and with a solid build that will provide full support to your tv that could be worth thousands. At Screen Mounts Australia, all TV Stands have been thoroughly reviewed and tested by our buying team that fully appreciate and understand the characteristics of the best quality tv stands you can buy on the market. With this thought in place, when you are viewing our diverse range of tv stands and even wall mounts you can enjoy having comfort knowing you are viewing on the best quality mounts money can buy, at affordable prices.
Spoilt for Choice at Screen Mounts Australia
As a one-stop-shop for anything tv stands related, Screen Mounts Australia stock and supply our customers with a variety of types. For the perfect solution for a business a free-standing TV stand or TV stand with a mount can be a perfect solution to help extract the most from your floor space. This type of TV stand isn't required to be near a wall and can be placed in the most optimal position you choose in the area. Portable tv stands are also a fantastic solution for displays but are especially great if your space is a bit smaller and require that extra manoeuvrability. You may not need the stand in place all of the time so by opting for a portable TV stand, you can move the unit around accordingly with your needs. If you require constant adjustments to heights and angles, an adjustable TV stand could be the answer you're after. Again, this provides greater flexibility in any of your displays and depending on the needs of your screen. If you are looking for the best adjustable tv stand or freestanding TV stand or adjustable TV stand, then Screen Mounts Australia can provide you with the highest quality and the just the right product to ensure that your screens are the most effectively displayed.
---
Leave a comment