Choosing The Best TV Stand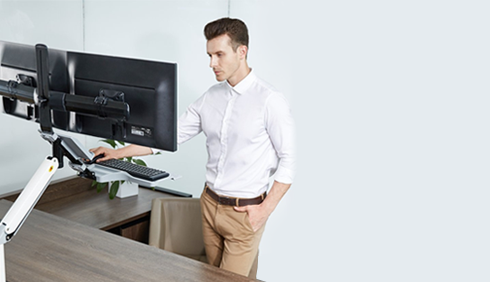 As a specialist supplier in the space of mobile TV stands, Screen Mounts Australia enjoys assisting our customers to make the right choice when they're purchasing a mobile TV stand that will help enhance the feel and space of the area they're needing the mobile TV stand for. There are some considerations we often advise our customers when it comes to choosing the best TV stand for the area. A great starting point is to consider the space itself while also considering what your needs will be from the mobile TV stand. With a wide range of designs and colours that mobile TV stands come in, consider your existing décor and how the TV stand might look beside other items in the same area. You will also need to consider the width of the TV you're looking to place onto the mobile TV stand as this may dictate which TV stands you are limited to purchasing. For a more in depth discussion on choosing the best TV stand, reach out to Screen Mounts Australia today for an array of available options.
Quality TV Stands
If you're finding your current tv area set up is looking too crowded and you could also use some extra free space in your home, our static screen stands are an ideal solution when you're wanting to preserve the space in an area while also benefiting from the feel of having a wall mounted TV without the commitment and permanency of installing one, and not to mention all the associated time and costs of installation. A fantastic feature about static screen stands for your tv is that you are not restricted on the angle your TV as static screen stands allow you the option to simply adjust angle or direction of the TV or move the TV around a room or house with ease and is likely to be a feasible option for anyone renting. Positioning ourselves as a leading supplier of mobile TV stands, at Screen Mounts Australia we have made it our mission to stock the best possible tv stands we are able to source at the most affordable prices for our customers. Our wide range of mobile TV stands are a fantastic situation regardless of your set-up or situation. Whether you're looking at a mobile TV stand for your home, business or perhaps you work for an educational institution and require a solution that allow flexibility with mobility of the TV and freedom to adjust the angle of the TV depending on the direction students are sitting, once you shop with us and implement a mobile TV stand with your TV and entertainment system, you will likely never look back. In the event you're searching for a more permanent mounting solution the North Bayou Range of single and dual screen monitor mounts boast exceptional quality gas pressure filled struts for ease of adjustment once installed. With Screen Mounts Australia you can have full comfort in knowing that all TV stands are available Australia wide across Perth, Melbourne, Brisbane, and Sydney. Reach out to us today to discuss your requirement and our friendly and knowledgeable team look forward to assisting you with your purchase.
Choosing a Television
It is not uncommon that we will speak with a customer who is researching our mobile TV stands in advance of purchasing their next TV and the customer is completely overwhelmed with the amount of options on the market for TVs. With the major swings in price from one TV to another, through to the various features one TV will offer, we understand choosing a television can be a tricky task. When it gets to crunch time and you need to choose the best TV for your situation, various factors will come into play before you can make the best informed decision. Even though we are not TV experts, being within the mobile TV stand industry how allowed to gain appreciation to different kinds of TVs and what some of the options available are. Before even beginning to look, it's important to consider what your budget is; once you confirm what your maximum expenditure on the TV will be you can then begin seeing what's available within that price range. So you have your budget, your next consideration might be to consider the size of the TV you require for the area the TV will be placed. Naturally, if you're looking to place the TV in a small room, it can be sensible to go for a smaller TV, especially if you will not be sitting very far away from it. These are just some initial considerations for you to make, however you will often find TV retailers will have trained staff who can also provide advice.
---
Leave a comment