Screens and TV Stands and Mounts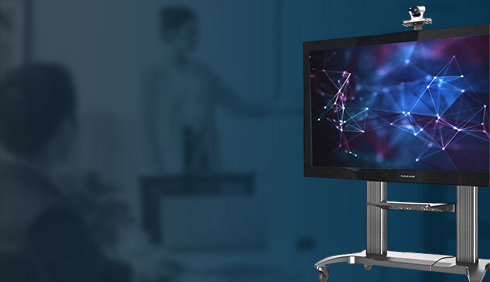 Our static screens stands are an ideal solution when you wish to preserve the space in an area with the ability to get the wall mounted TV feel without the permanent impact, commitment and costs associated with wall mounting a TV; this includes the cost outlay of the mounting bracket itself and costs associated with having to call out a professional to mount the tv to the wall. Static screen stands for your TV also allow you the option to simply adjust angle or direction of the TV or move the TV around a room or house with ease and is likely to be a feasible option for anyone renting. Static screen stands are great low-cost option for free standing TV needs. At Screen Mounts we have made it our mission to only stock the best possible tv stands. Our extensive rage of TV carts and mobile stands offer a great solution to individuals or businesses or even schools and other educational institutions that either require the need to maximise space at different points in time or the maneuverability of their TV and TV accessories. With full mobility to wheel the TV stand cart or mobile TV stand as required between rooms allows for flexibility in sharing your valuable technology at different times without the needs to purchase multiple TV's and accessories. If you are after a more permanent mounting solution the North Bayou Range of single and dual screen monitor mounts boast exceptional quality gas pressure filled struts for ease of adjustment once installed. If it's a computer monitor mount solution you're after then you're also in the right place as we stock a diverse range of mount option from wall and desk mounts with weight capabilities from as little as two kilogram through to the colossal twenty-three kilogram weight limits. All TV stands are available Australia wide across Perth, Melbourne, Brisbane, and Sydney.
Quality Mounts

When looking to wall mount your TV we believe sourcing and using a wall mount that has been carefully engineered and with a sturdy build is essential to support your costly asset, being your tv. At Screen Mounts all TV Stands have been individually selected by our buying team that fully appreciate and understand the characteristics of a high-quality wall mount. With this in mind, when you are exploring our extensive range you have confidence knowing you are viewing quality mounts. Our diverse range of tv mounts offer various features from fixed, tilting to fully adjustable tv wall mounts. The Prices of our TV stand mounts on offer range from as little as $24.95 and increase in price as the TV Size increases and the number of features offered on the mount.
How to Choose a TV

When it comes to choosing a TV for your home a number of factors will come into play. With our extensive and collective decades of experience helping customers with TV stands and mounts we've also put it upon ourselves to assist when asked by our customers on the process of selecting a TV. Initially you should consider your budget and what is the maximum you would like to invest on an asset that you're not only spending your money on but also a lot of time in front of after the purchase. Once you have been able to bed down your budget your next consideration should be the size of the TV you are looking to purchase. The size of your room is likely to dictate the option you pursue. Once you have established your budget and TV size, now it is time to consider whether you choose an LED or OLED. In short, an OLED will typically boast a better picture and you will find is more expensive for this reason. If you're finding the OLED is maxing out your budget, we've spoken to customers who chose the LED and the savings of not purchasing an OLED allowed them extra funds to purchase their TV Stand or TV Mount or perhaps a sound bar for their new system. For Tv stands and mounts, see Screen Mounts today for a fabulous deal.
---
Leave a comment